Newform Research Pictures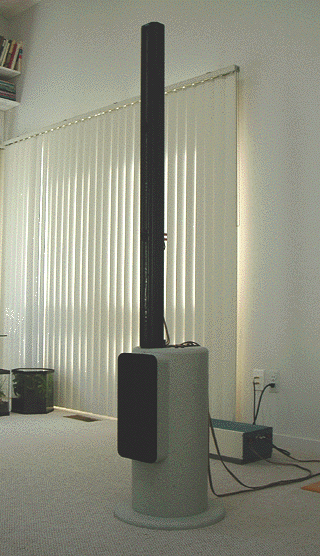 One of my Newform Research NHB 45s, built from a kit. The midbass (sealed) enclosure is made from an 11" diameter paper cylinder. Construction using the paper cylinders was very challenging, but the results were worth the effort. The cylindrical shape has almost completely eliminated the resonances associated with conventional box design.

Note that the NHB 45 kit is no longer available, although you could still put together this same speaker by sourcing the ScanSpeak 5-1/2" midbass driver elsewhere (i.e., Parts Express).

Note also that there is no passive crossover in this design--the ribbon drivers being driven by (2) SC 150 push-pull transformer-coupled amps, while the mid-bass are driven by two 200 wpc Marchand MOSFET monoblocks, all fed through a Marchand electronic crossover operating at 900 Hz.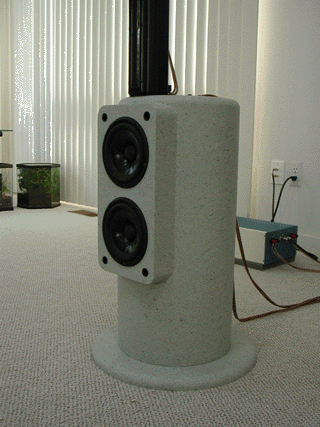 View with the grille removed. The midbass enclosure is finished with Zolatone, a faux stone paint. My Velodyne ULD-18 II subwoofer (not shown) is finished in the same Zolatone.
© 2017 Kai Industries